2019 is all about being our best self. The first step to minding your business and prioritizing self is being moisturized and glowing. And It was only right that I interview the woman who helped me get my glow on Tiana Conyers. Her brand started in her Harlem apartment and grew from there. She's famous for helping people with sensitive skin flourish on and for starting the #DONTBEASHY movement. 
Tiarra:  What made you create Glazed? And what was the process from making samples in your bedroom to creating a whole Etsy store? 
Tiana: I started making body butter in college for myself because my eczema seemed to increase once I moved to New York from Maryland. Which then lead to my boyfriend at the time being my guinea pig/biggest supporter and letting me test out new products on him. Eventually my friends and classmates started putting in orders for themselves. I went to the Fashion Institute of Technology, studying Advertising Marketing and Communications so I had all the tools to start a brand. It took me a year to finalize the branding, labels and products but eventually Glazed was born. 
The demand grew and people who were my initial customers expanded from my tight knit college community. Etsy solved all my time management issues and having to do personal delivery drop offs. I've even shipped orders internationally to Japan!
Tiarra: Any advice for new business owners? 
Tiana: Only do it if your heart is in it. Starting a new business is extremely hard so you have to love what you're doing and know why you are doing it. Your heart keeps you driven. 
Tiarra: Black women are leading as entrepreneurs. How has your identity shaped how you market your product and who consumes them? 
Tiana: Everything I do is for the benefit of black women and men. Black owned businesses are beginning to shift the way people think and consume products. My products are created from black influence, I worked extremely hard on keeping the culture. From the product names Woosah (Bad Boys reference) and Ting (Caribbean reference) to the cocoa butter being imported from my Ghana dealer. If I can help a black man moisturize his beard and a black woman to glow everyday, I'm completely satisfied and proud of my creations.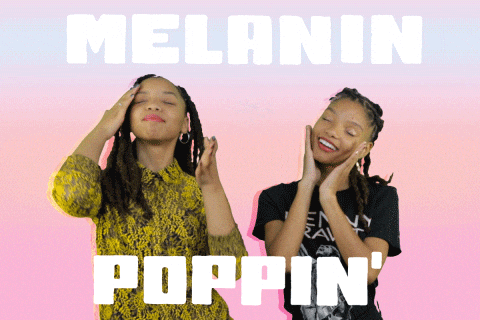 Tiarra: Do you have any pop-ups, specials or new products people should know about? 
Tina: My new product is called Tina. The name Tina is actually my alter ego that my friends came up with. Tina is fun and free spirited (maybe a little loud haha). The product is the original Glazed recipe with an added all natural mica rose gold bronze was to give you a sunset glow. Tina is perfect for the beach, a day party or a night out with your girls!
Tiarra:Favorite part about your business? 
Tiana: The feedback from customers is hands down my favorite part. Hearing that people are in love with the scent or their beard is growing in thick and healthy makes me so happy. My favorite feedback is hearing from people with sensitive skin conditions like eczema. Hearing that Glazed has helped with skin outbreaks and irritations is the best news I could ever receive. I once was that person who didn't know where to start with my eczema and now I'm fucking creating a brand that helps! #DONTBEASHY 
If you too want to Glow you can support Tiana by following her business page  here and shopping here.
Personal IG: @theholytrinitee
Take Care of Yourself And be sure to enter our Giveaway! Check out her social media pages for more details on how you can win this basket pictured below: 
Woosah 6oz Body + Hair Butter
Ting 2oz Tina Body Butter 
Yin + Yang 2oz Body and Hair Oil 
2 Lip Balms
Please reload